Hi Guys!
Just a quick little post for the sunday social blog hop today!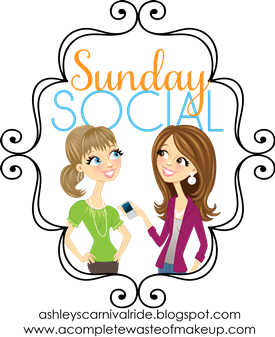 Basically all I have to do is answer the questions below, get linked up and start finding new blogs! I've been eyeing it up for a while, and since it's to do with Christmas, I thought, why not?
I love doing tags and answering questions about Christmas it just makes me happy and very excited for the big day!
If you want to take part today, or next week, follow
this link
or the links above on the widget to enter the blog hop, and find out what next week's question's are and see if you're interested!
So on with the questions...
1
. What is your favorite Holiday season tradition?
My favorite tradition is probably having Christmas dinner! I love turkey, cranberry sauce, just thinking about it makes me drool!
2. Do you have a certain Holiday movie you watch more than others? If so what is it?
Me and my brother always always always watch the grinch in the upcoming weeks to christmas. I've watched it since I was 3 and I just love the storyline, it is so sweet and makes my heart melt!
3. Show us your favorite decoration or pinterest decoration you wish you could have?
I just looked up decorations on google and found these beauties! I love them all, you've got to have tacky at christmas.
Reminds me of dolly's in a doll house!
So cute! They make me hungry though.
Bit of naff gold has to be on everyone's tree!
4. Favorite Holiday song?
Every single bloomin' song from michael buble's christmas album! I could fall asleep to his voice, is that weird?
5. Favorite Holiday dessert?
Everything! I love Angel Cake, Christmas Pudding, Fruit Cake, and Christmas cupcakes.
6. What is on your wish list this year?
So much stuff! I won't tell you all yet because I'm planning to do a wishlist, but I am in love with the sanctuary gift set from boots.
Thanks for reading, and make sure to take part this week or next week xo